Samsung Tabs - Classic Version
Samsung Tabs - Classic Version
Brand: HDE
Product Code: *E31+B20+X140
Availability:In stock
Have a question?
The Kid-Friendly Tablet Accessory
While anyone can benefit from our shock-proof tablet frames, their soft, cartoonish design is meant to appeal to younger tablet owners. Each cover comes in a variety of bright, vibrant colors, so your child can personalize their tablet with their favorite color. The handle and sides of the case feature a bumpy texture that makes it easier for smaller hands to keep a firm grip on their expensive device.
Includes Free 3-In-1 Stylus And Cleaning Cloth
A shock-proof frame can only do so much to protect your iPad, Kindle, or other tablet, which is why HDE is including a 3-in-1 stylus and cleaning cloth for a limited time (while supplies last). The stylus helps keep your child's tablet screen free of fingerprints and also features a ballpoint pen so they can take paper notes in class, as well as an LED flashlight for emergencies. The microfiber cleaning cloth helps clean off the tablet screen after a hard day of use.
Designed For Long-Lasting Protection
Each tablet frame is made from durable, rubberized, and 100% non-toxic EVA foam cushion for the best in shock-proof protection. This tough bumper material fully covers back of device while the raised bezel around the display edges protects your tablet screen from face-first hard screen falls, shocks and impacts.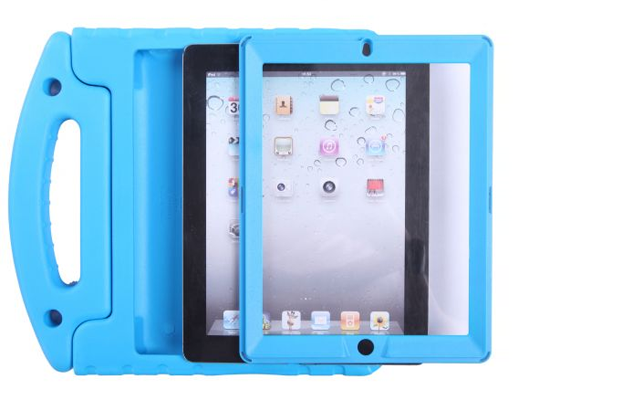 Dual Layer Option
Some models (primarily iPad) offer a dual layer option, giving you additional protection to the screen, for an additional fee.