How To Be Productive Like The Pros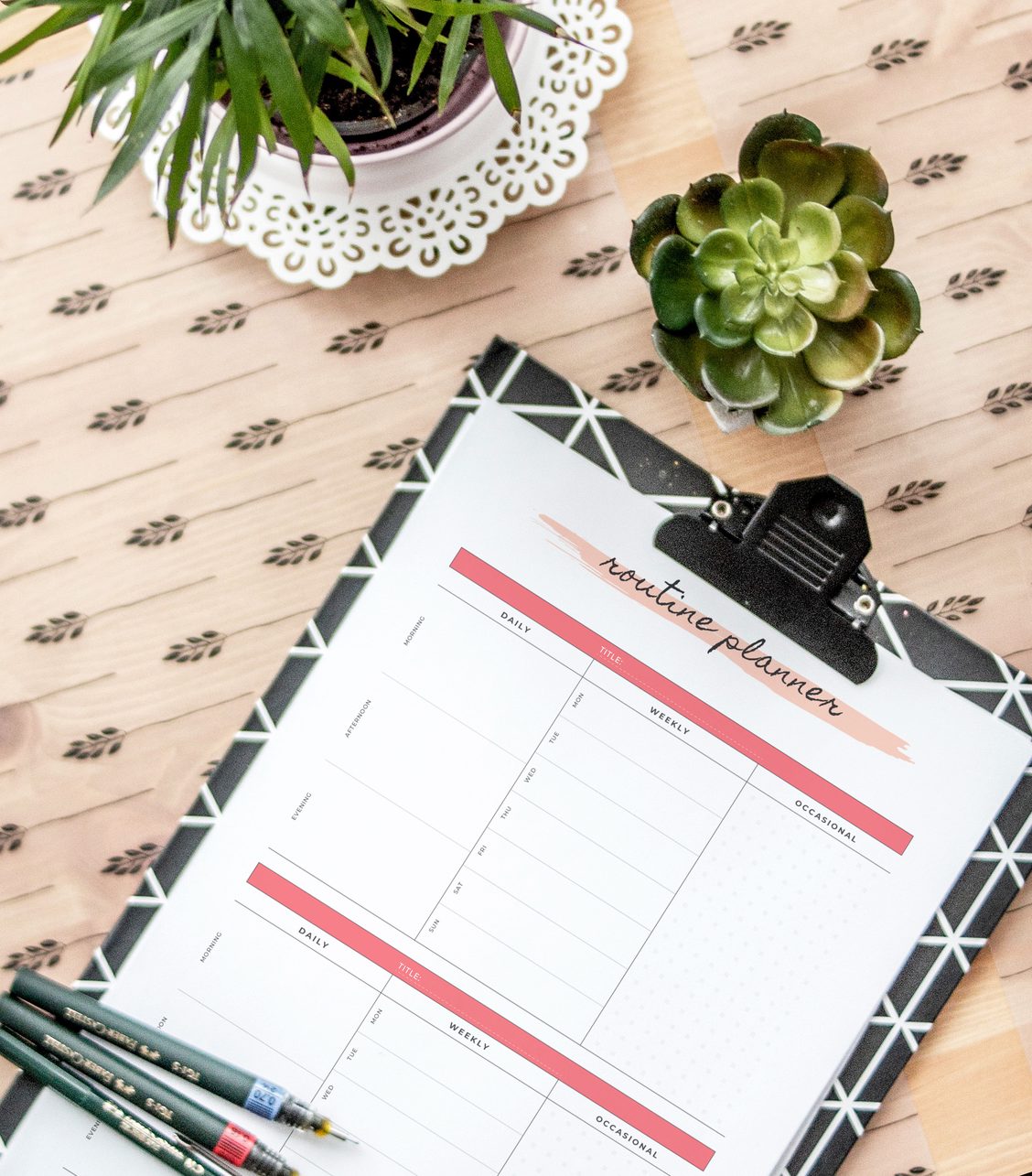 We all know that healthy choices make us healthier, and healthy habits keep us healthy, right?
But how do you turn healthy choices into healthy habits?
Routine. Routine. Routine.
I know, life can be chaotic even on a good day. You don't have time to figure out what routines you should start. You need some guidance.
But first, did you miss our FREE Routine Planner printable give away? Make sure you sign up for our health and fitness printables here, so you don't miss any more!
Here's where having a Routine Planner comes in. And what should you add to your Routine Planner?
Mindfulness & Setting Your Intentions First Thing in the Morning
It's really easy to pick up your phone first thing and check your emails or your messages, but before you let the chaos in and start reacting to it, try taking a few minutes for yourself to set up your own intentions for the day.
You can do this through meditation and/or journaling, even 5-10 minutes a day can help switch you from reacting to life to creating your life.
"Mindfulness practice is really about, to me, decreasing emotional reactivity so you can proactively create your day and create your life; versus just being a walking reflex that sometimes screws up.

"It's easy to become obsessed with pushing the ball forward… [five minutes of journaling] allows me to not only get more done during the day but to also feel better throughout the entire day, to be a happier person, to be a more content person — which is not something that comes naturally to me."
You can check out Ferriss' 5 minute journaling exercise here.
Now that you've focused in on your intentions instead of just the demands of others, what's next?
Decide on 1 Thing That Really Matters for Each Day
Think about what's really important to you that you're working towards. Now, what's one thing you can do today to make progress towards that goal?
We're talking SMALL steps that bring you closer to a BIG goal. Big goals can feel really overwhelming if they're not broken down into small pieces.
What's something really important to you? And what can you do to take a small step towards it today?
You've chosen to practice a little mindfulness and decided to make a little progress each day on your goals, what else do you need to do?
Here's what the research says…
Include Rewarding Behaviors - Specifically, Schedule Time With Your Friends
Why? While meeting with your friends for dinner might not seem like something you should schedule and build into your routine, it's actually really important and often sidelined for other obligations we deem "more important."
But spending time with your friends and family, nurturing those relationships, is critical for your mental and physical health. Don't believe me?
A research project named the Grant Study followed 268 Harvard sophomores (men only, as it did start in the '30s after all) for over 72 years, making it one of the most comprehensive longitudinal studies ever.
"When the study began, nobody cared about empathy or attachment, but the key to healthy aging is relationships, relationships, relationships."
The study even showed that genetics were less important to longevity than our level of satisfaction with our relationships.
"The surprising finding is that our relationships and how happy we are in our relationships has a powerful influence on our health […] loneliness kills, it's as powerful as smoking or alcoholism."
The research is quite clear.
It's incredibly important to nurture your relationships and/or build new ones if needed. So don't wait for an opportunity to see your friends, schedule them into your routines!
If you missed our FREE Routine Planner printable give away, we're sorry! But you can sign up for our health and fitness printables here, so you don't miss any more!