Lightweight, extreme protection, and fully functional, this case has got you covered. Whether you are at home, in the office, or on the go, the HDE Rugged Series case is for you. No need to constantly be concerned about dropping or bumping your iPad…It happens to everyone! But between the high density EVA foam, dual layer screen protection, and adjustable shoulder strap, you have no need to worry about your tablet ever again.
Compatible with New iPad 2021 - 9th Generation Apple iPad,  iPad 10.2 2020 - 8th Generation Apple iPad 10.2 Inch Tablet (Released iPad 10.2 2019, Models A2270, A2428, A2429, A2430). Also fits

7th Generation Apple iPad 10.2 Inch Tablet (iPad 10.2 2019, Models A2197 & A2198 & A2200), 

iPad Air 3 (2019) Models A2123, A2152, A2153, iPad Pro 10.5 (2017) Models A1701, A1709, A1852
Two-piece protective carrying case and stand gives full access to all ports, buttons, and functions
Dual layer full body case design with crystal clear integrated screen protector provides unparalleled protection from the drops bumps and spills of daily life - adding valuable years to your investment

Light weight, rugged, shock resistant foam protects just as well as plastic or rubber, but weighs much less! You'll barely know it's on there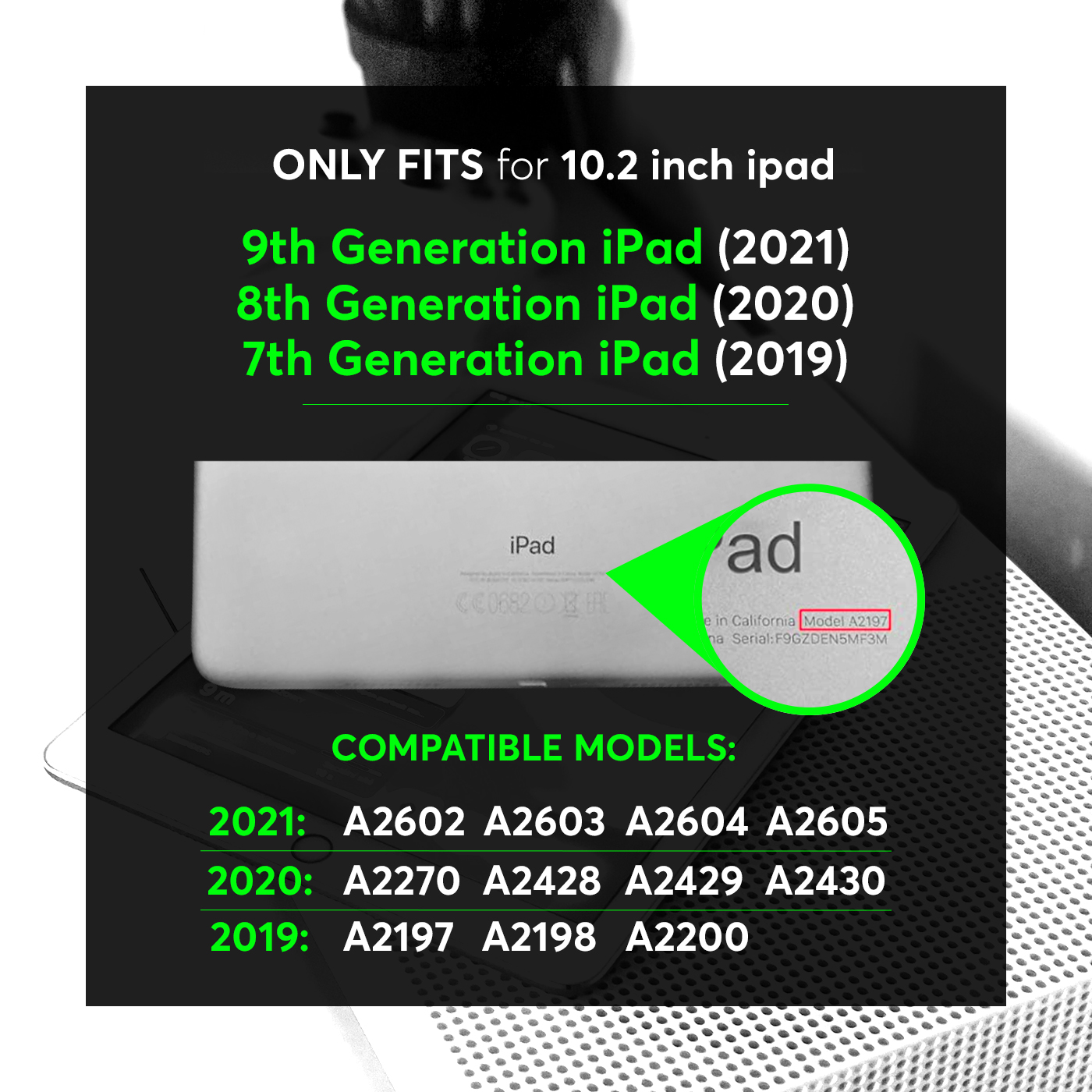 Dual Layer Shock Proof Case for iPad 10.2(7th/8th/9th Gen),iPad Air 3 and iPad Pro 10.5
How do I place an order?
Add at least one item to your shopping bag and then go to checkout (the little bag in the top right corner).

During checkout, you'll select what shipping method you prefer, enter payment information, and add your billing and shipping information. Review and confirm your order information before finalizing your order. Press the button to finalize your order and you're all done! We'll take it from there.
Do I have to pay sales tax?
Orders shipped to Pennsylvania addresses will be charged Pennsylvania's 6% sales tax. The total order amount, including shipping, will be taxed this amount.
What payment methods do you accept?
HDE accepts American Express, Visa, MasterCard, Discover, and Paypal. We do not accept COD payments. We do not offer terms.
When will my order ship?
Orders normally ship within 1 business day after payment is confirmed.

Please verify your address before completing checkout. We are not responsible for wrong or undeliverable addresses and we are unable to change the shipping address once an order goes into processing.
How much is shipping?
Shipping charges are displayed on the checkout page at the time of your order.

The size of your order and what shipping method you choose will determine the price you'll pay for shipping.
Where do you ship?
Currently, we only ship to US addresses.